Visual Communications Marketing Copyright Open Education Design Thinking
[-]
These Platforms Can't Be Ignored
It may be in our nature to rail against publisher platforms, and some librarians may believe it is their responsibility as social justice advocates to demonize publishers for co-opting and bastardizing OER, as some journal publishers have corrupted open access. Breaking commercial publishers' total control of learning content with the OER sledgehammer was neither easy nor inexpensive—and despite modest success, commercial textbooks still dominate. According to open education advocate David Wiley, it took years of effort and millions of dollars to create and introduce the OER we have today. Perhaps most difficult to overcome was faculty's own reliance on commercial textbooks, to convince them to adopt OER. As supplemental learning content has exponentially expanded—slides, test banks, self-grading quizzes, and more—convincing faculty to adopt OER has only gotten harder. As Wiley puts it:
An OER advocate that walks into a faculty office and argues for them to trade their current arrangement (which increases the speed with which students receive feedback and decreases the time faculty spend grading) for static OER is going to sound like they understand very little about the realities of teachers and students. And they're not going to be a very successful advocate.
The Status Quo of OER in Germany
A talk for the Open Education Global Conference 2017
This is the title of a talk for the Open Education Global Conference, which will take place in March 2017 in Cape Town, South Africa. The talk by Jan Neumann and Jöran Muuß-Merholz, both members of the OERinfo team, is in flipped-format so that the content can be seen as a video beforehand and commented on.
2017 02 27

__Hall Davidson, Senior Director, Global Learning Initiatives, Discovery Education who speaks frequently on the topics of VR and AR, said the results for teaching can be "astonishing." He pointed to Lockheed Martin's "Generation Beyond" initiative, powered by Discovery Ed, which takes classrooms on online field trips to learn about deep space exploration."[-] "students could also be put into scenarios where they're allowed to perform physical activities in virtual formats to begin building "muscle memory" that carries over into real life. That's why the use of VR in sports and military training has become so popular." __
Article by Dian Schaffhauser
__Thanks Chris, do you have links? to examples you like – you could check this out too – "award-winning game-based learning from The Chang School at Ryerson University. _Video_ "The Therapeutic Communication and Mental Health Assessment" allows users to immerse themselves in a scenario and navigate the interaction with a client through a video and three learning modules. Produced by Digital Education Strategies at The G. Raymond Chang School of Continuing Education, Ryerson University. _ https://www.youtube.com/watch?v=oMk7Fyqqm3o&feature=youtu.be _ [ Director Naza Djafarova
__David Wiley sees an opportunity in his Blog to express animosity for Fallon's Pearson via misinterpretation and mistaken level of commitment of the creative people who earn their living within Publishing __David Wiley John Fallon – Pearson and the Big Winner _

_ It's best to read John Fallon's statements for yourselves, the sum of what he had to say to Journalists and Market Analysts is quoted in these 5 articles  _
__John Fallon – Pearson _ https://www.theguardian.com/business/2017/jan/18/pearson-penguin-random-house-shares-dive-profit-warning _ http://fortune.com/2017/02/24/pearson-education-earnings/ _ http://www.telegraph.co.uk/business/2017/02/24/pearson-sell-publishing-stake-losses-deepen/ _ https://www.ft.com/content/0e294d16-dc60-11e5-98fd-06d75973fe09 _ https://www.ft.com/content/64889f6c-fa79-11e6-9516-2d969e0d3b65 _
Watch chief executive, John Fallon's interview on 24 February 2017, on Pearson's 2016 full year results.
GM's CC license infringement claim, "while unsuccessful, was not objectively unreasonable." [a current Balance Sheet would be better to see how new development work is affected by reduced revenue/funding.] "Furthermore, it would appear that no court has addressed whether commercial copy services may reproduce materials for a licensee under the Creative Commons CC BY-NC-SA License" [Creative Commons Attribution – Non Commercial – Share Alike 4.0 International Public License] _ 2017-02-24 Order Granting Motion to Dismiss.pdf _ https://drive.google.com/file/d/0B0HBOY8b2doEdmpkMU4ya2dKM28/view _
__Erin Beattie, BCcampus Digital Media Strategist – "BCcampus is a hub for new and innovative technologies in B.C. and development is our middle name, but much of what you don't see is behind the curtain so we thought we'd push that back to reveal how we've managed to stay current in the ever-changing digital environment. Web development presents many barriers, opportunities and crafty solutions, and as we collectively grow, we need to stay up-to-date and nimble in order to stay innovative, but what exactly does that mean?
To find out, we asked several internal BCcampus staff, read what they had to say: __
https://bccampus.ca/2017/02/09/bccampus-developers-committed-to-building-sustainable-digital-infrastructures/
2017 02 00

2017 02 23

OECD 2007: An open pedagogy requires a broad definition of OER
"Open educational resources refer to accumulated digital assets that can be adjusted and which provide benefits without restricting the possibilities for others to enjoy them."
2017 02 23

By Heidi Tolliver-Walker
Published: February 23, 2017
2017 02 23

Even in a potentially unlimited digital marketplace, social networks, rankings, recommendation algorithms and the like focus people attentions on just a few items in the same way. The story of mass entertainment in the internet age is a paradox. Technology has given people too many choices, and then instantly relieved them of the need to make them.
2017 02 09

2017 02 20

2017 02 22

2017 02 00

__Request for Quotes – Strategic Trend Research eCampusOntario is interested in working with analysts and researchers with deep experience in post-secondary education and a significant understanding of the Ontario context. __ https://lnkd.in/eMxnX2q for-quotes—strategic-trend-research
eCampus Ontario
ecampusontario.ca
2017 02 20

WCET Survey Report and Tony Bates Commentary
2017 02 20

2017 02 20

2017 02 15

__Selecting Quality Course Materials for Higher Education, by Association of American Publishers AAP, and Software & Information Industry Association SIIA _ http //https://lnkd.in/eCjME6Y
2017 02 00

__Selecting Quality Course Materials for Higher Education, by Association of American Publishers AAP, and Software & Information Industry Association SIIA _ http //https://lnkd.in/eCjME6Y
Much of the time, business runs on bullshit. Especially when it comes to market research. How did we get here? How do we get out of here? My take on the challenge of keeping it real in a post-truth world.
2017 02 15

__The inBloom Story: InBloom was a $100 million educational technology initiative primarily funded by the Bill & Melinda Gates Foundation that aimed to improve American schools by providing a centralized platform for data sharing, learning apps, and curricula. [The Legacy of InBloom – InBloom_feb_2017.pdf] _ https://lnkd.in/eNEUsjV _ __ https://lnkd.in/eTDiUYu
Funding round values Canadian tech firm at $185 million

Rival textbook publishers have struggled to increase revenue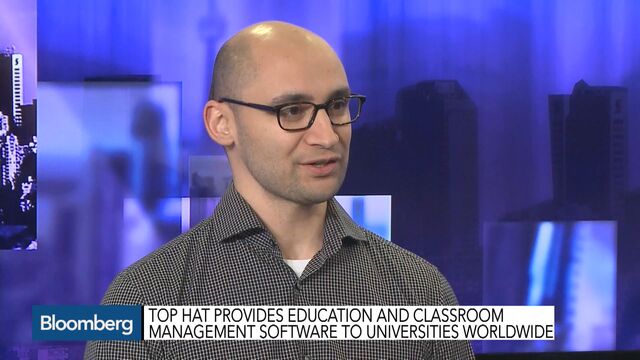 Top Hat, the Canadian education technology startup, completed a new round of funding to give it more firepower to go after textbook publishers like Pearson Plc.
The $22.5 million round is Top Hat's biggest yet and brings its total funding to about $40 million, the Toronto-based company said in a statement Wednesday. New York-based Union Square Ventures participated, as well as previous investors iNovia Capital and Georgian Partners, among others. The funding values Top Hat at $185 million, according to people familiar with the deal.
2017 02 15